An intro to the best 7 heart-touching tourism places in Varanasi
History of Varanasi
Varanasi is considered to be the most ancient spiritual city in India and one of the oldest inhabited cities in the world.
 Tourism in Varanasi is considered to be one of the best touristry in up. According to the beliefs, this city situated on the trident of the god Shiva was established by god Shiva 5000 years ago. Its description is found in many Hindu texts.
 Varanasi is known as the city of temples and ghats. It is the city with the highest no of ghats in the world.
 It's considered one of the holiest cities in Hinduism and is considered sacred in Buddhism and Jainism. Gautam buddha gave his first sermon here.
It is known as Banaras and Kashi is situated on the bank of the holy river Ganges, this city attracts a lot not only  Indian but also foreign tourists.
If you talk about tourism in Varanasi then go there places and feel the sanctity there.
List of the best 7 heart-touching tourist places in Varanasi
Kashi Vishwanath Temple
 Talking about the major temples of  Varanasi, the first name is  Kashi Viswanath temple.
 one of the 12 Jyotirlingas of lord shiva established here. If you come for travel in Varanasi then you should start your day from here. By visiting here, the soul feels pure and peaceful.
 If we throw light on the history of this temple, it was broken and built many times.
 This temple was renovated by maharani Ahilya bai of Indore in 1770-80.
 Ahilya bai Holker built Visvanath temple in this complex on which Maharaja Ranjit Singh of Punjab built a golden pot, maharani Baija bai of Gwalior built the Gyanwapi pavilion and maharaja Nepal installed a huge Nandi statue
Aarti
3:00 AM to 4:00 AM 
Mangla Aarti
11:15 AM to 12:20 PM
Bhog/Aarti
7:00 PM to 8:15 PM
Saptirishi Aarti
9:00 PM to 10:15 PM
Night Shringar/Bhog Aarti
10:30 PM to 11:00 PM
Night shayan Aarti
2. Dasaswamedh Ghat
Dasaswamegh ghat is one of the primary and ancient ghats of Banaras.
 It is believed that a person who takes a bath at this ghat and visits the Kashi Visvanath temple, all his sins are cut away and he attains salvation. 
The main attraction of this ghat is the Ganga Arti in the evening which is visited by thousands of devotees and tourists every day.
Aarti Timing
summer :- 7 PM to 7:45 PM
Winter :- 6 PM to 6:45 PM
3.   Assi Ghat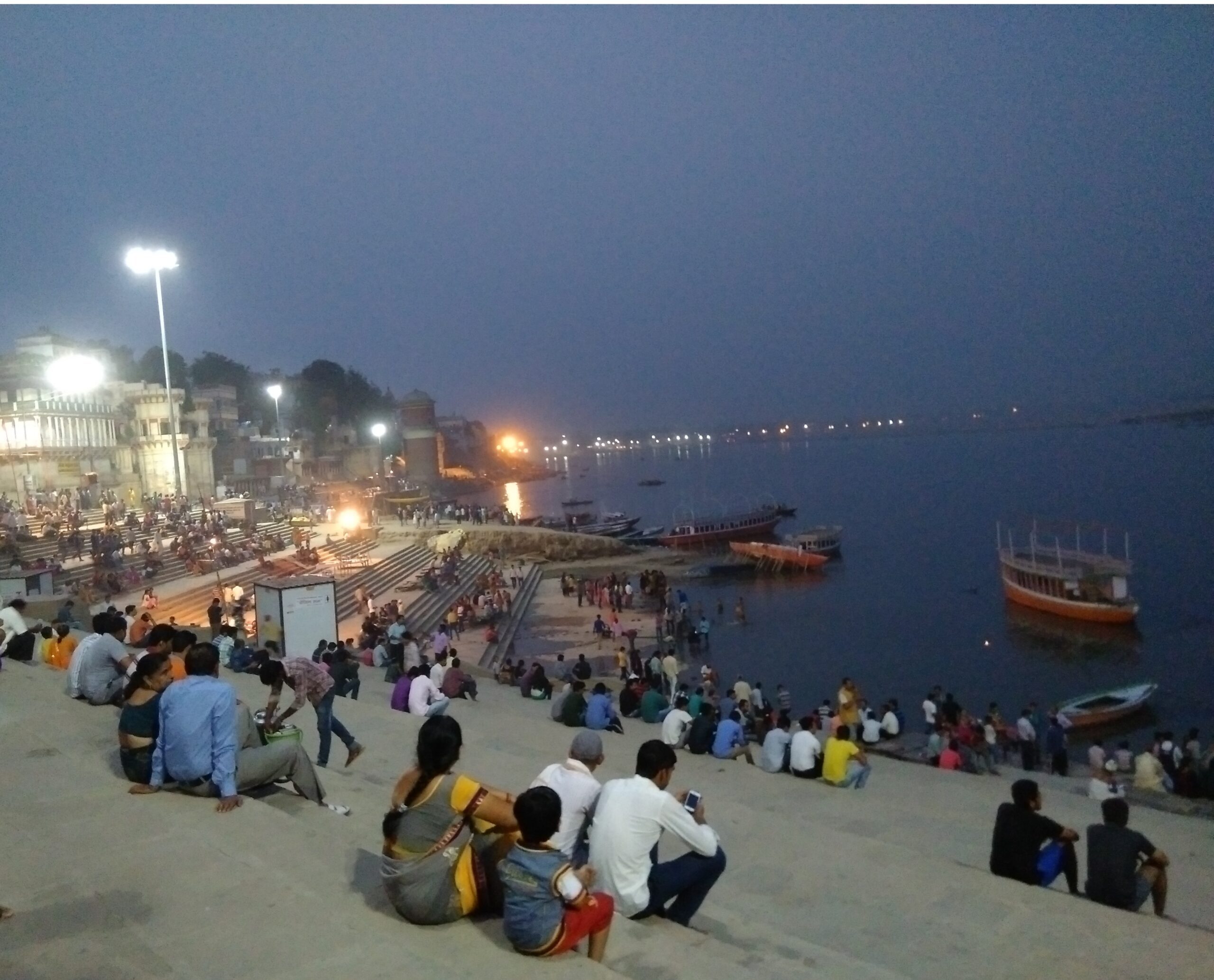 Assi ghat is situated at the confluence of the Assi river and The Ganga river. This ghat is very popular for tourism in Varanasi.
 Due to its location at the confluence of the two rivers it got the name Assi ghat. Assi ghat was built by Maharaja Banaras in the 19th century.
 Tulsidas had composed the famous Hindu text "Ramcharitmanas" on this ghat.
 This is the last ghat located south of Banaras and this ghat is the center attraction from the point of view of the faith and tourism of the devotees.
 Assi ghat is believed to be the place where the greatest poet Tulsidas died.
Here you can enjoy the Ganga Aarti and boating. If you are planning to travel to Banaras, then spend some time at Assi ghat.
4.   Durga Temple
Durga Mandir located in Durgakund is one of the ancient major temples of Kashi.
 It is believed that Maa Durga had rested in this temple after killing the demons named Sumbha-Nishumbha.
It is a very important temple for devotees and tourism in Varanasi.
 Maa Durga is seated in the form of a yantra in this temple.
 The idols of Baba Bhaironath, Goddess Lakshmi, Maa Saraswati, and Mahakali are established in this temple.
 There is a pool on one side of the very grand temple made of red stones, whose water does not dry up.
 Worshiping Adishakti Maa Durga, all sins are burnt to ashes. In the month of Navratri and Sawan, the crowd of devotees increases a lot.
 A fair is organized here in the month of Sawan, which is very popular among the residents here. 
If you are thinking of traveling in Varanasi then definitely come here.
5. Sankatmochan Temple

This temple is one of the major holy temples of Varanasi.
 Sankatmochan means the remover of troubles or sorrows. In this temple, Hanuman Ji had given darshan to Ram devotee Goswami Tulsidas.
 An amazing feature of this temple is that the idol of Lord Hanuman is displaced in such a way that he is looking at Lord Rama.
 The model of Shri Ram Lalla is sitting in the right direction of the heart of the icon of Sankatmochan Hanuman Ji.
 The specialty of the idol of Lord Hanuman is that the idol is made of clay.
 There is an ancient well in the courtyard of this temple. Madan Mohan Malviya built this temple in 1900 AD.
6. Ramnagar Fort

Ramnagar Fort is located in Ramnagar of Varanasi. It is situated opposite Tulsi Ghat on the eastern bank of the river Ganges.
It was built in the Mughal style in 1750 AD by Naresh Balwant Singh from Chunar sandstone.
Ramnagar Fort has a temple and a museum on the grounds.
There is a big clock on the huge walls of Ramnagar Fort.
This clock not only displays the year, month, week, and day, but also gives astronomical facts about the constellations of the Sun, Moon, and stars.
Those who come from the point of view of tourism in Varanasi definitely come to visit Ramnagar Fort.
It is located 14 km from Varanasi Cantt Station and 2 km from Banaras Hindu University.
7. Sarnath

Sarnath is a major Buddhist and Hindu Pilgrimage center located 10 km northeast of Cantt station.
After attaining enlightenment, Lord Gautam Buddha gave his first sermon here, which is known as "Dharmachakra Pravartan". which was the beginning of the propagation of Buddhism.
In Sarnath, you will get a chance to know more about Lord Buddha.
Popular places of interest in Sarnath include Chaukhandi Stupa, Ashoka Asthamba, Dhamekh Stupa, Archaeological Museum, Thai Temple, and Monastery.
People also ask
How can I spend 2 days in Varanasi?
Places to Visit in Varanasi in 2 Days: A Suggested Varanasi Itinerary for 2 Days
Kashi Vishwanath Temple. Kashi Vishwanath temple is the most popular Varanasi temple. 

Ramnagar Fort

Dashashwamedh Ghat for Evening Ganga Aarti

Assi Ghat

Varanasi Ghats. 

Kabir Math. 

Sarnath
Which month is best for Varanasi?
The best time to visit Varanasi is during the winter months (November to February). Although it gets fairly cold during the winter, this is the best time when you can explore the holy city without getting tired. The average low temperature is around 5°C.
Is Kashi the same as Varanasi?
Varanasi, also called Benares, Banaras, or Kashi, city, in southeastern Uttar Pradesh state, northern India. It is located on the left bank of the Ganges (Ganga) River and is one of the seven sacred cities of Hinduism. Pop.
What is the famous food of Varanasi?
Top 8 Famous Dishes in Varanasi: Kachori sabzi. Chena Dahi Vada. Baati C
Is there any ticket for the Kashi Vishwanath temple?
There is no cost for entering the temple, it's free. A locker facility is available in the shops to keep your electronic gadgets. In the same shops, you will be able to find the Prasad and flowers which you can take, that will be chargeable. The minimum prasad packet starts from Rs.
Which sweet is famous in Varanasi?
Most Varanasi sweets have a milk and ghee base like the Magdal, Sankat Mochan Ke Laddoo, Parval Mithai, Kheer Mohan, and Launglata among others.
Is Ola available in Varanasi?
Ola Cab services in Varanasi are also available. Besides the airways, the other modes of transport like buses and trains are an excellent option for getting into Varanasi city.
How far is Varanasi airport from the city?
about 20 Km
Varanasi Airport which is also called Lal Bahadur Shastri Airport or Babatpur Airport is situated at a distance of about 20 Km to the northwest of the city center of Varanasi.
Is it safe to travel to Varanasi at night?
Be careful venturing out at night alone
Personally, after the Ganga aarti took place in the evening time, I'd venture back to my hotel and stay there. Varanasi is totally not a party place and walking down the labyrinth of alleyways can be a tough job during the day, let alone at night.